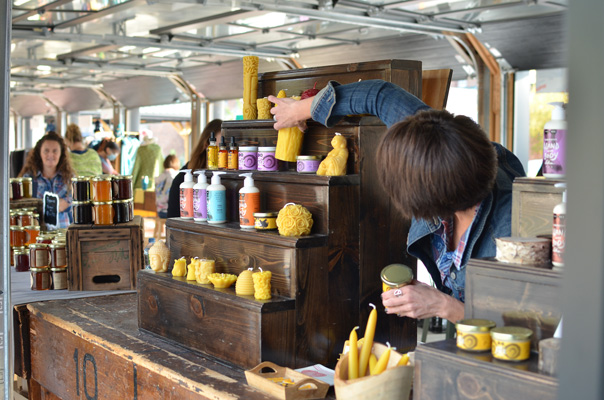 The River District Owen Sound is full of delightful surprises, from one-of-a-kind boutiques and specialty shops to live music, heritage architecture, wide leafy sidewalks and a range of restaurants.
In summer, flowers grace city streets and line the bridges crossing the Sydenham River. In winter, the Festival of Northern Lights lends a magical aura to the heart of the City.
The city has a number of unique home decor stores (with selection ranging from antique to contemporary to eclectic), plus book stores, bike and board shops, photography stores, and galleries showcasing local artists. You will also find retailers specializing in high-end baby gear, children's toys, upscale boutique furniture & decor, Christian supplies, health foods, wool and knitting supplies, women's clothing and sporting gear.
Explore some of our River District attractions while you're here, such as the Roxy Theatre, the Artists Co-op, the Owen Sound Farmer's Market, and public art. Bring along a copy of our Historic Walking Tour to appreciate the River District's heritage and architecture while you shop. Adjacent to the River District on the West bank of the Sydenham River you will find the Tom Thomson Art Gallery, the library, and a little further West will bring you to the famous Billy Bishop Home & Museum.
Free parking is available throughout the River District on City streets and municipal lots. Additional parking is available in lots off 3rd Avenue East and behind City Hall on 1st Avenue East.
Find maps and guides at City Hall or at the Visitor Centre during the summer months at 1155 1st Avenue West.