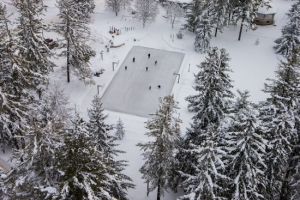 Owen Sound has three indoor arenas and one outdoor skating rink. All indoor arenas are used for skating and hockey from September to April. Two arenas host lacrosse, broomball, and other activities from April to September, and one is used for skating and hockey year-round. Visit the City of Owen Sound Ice Rental page to check current public skating schedules.
Owen Sound has an impressive assortment of sports and fitness facilities for you to enjoy. Whether you want to watch or play team sports, work out, or hold an event, you'll find what you're looking for here.
Julie McArthur Regional Recreation Centre, 700 10th Street East
The Julie McArthur Regional Recreation Centre, opened in 2012, is the newest of Owen Sound's public sports facilities. It is home to the YMCA of Owen Sound Grey Bruce. The YMCA features an Aquatic Centre with a warm water leisure pool and a full 25 meter 8 lane main pool, a multi-sport gymnasium, fitness and cycling studios, an indoor walking/running track, and a conditioning centre. Drop-in guests are welcome. Visit the YMCA website for more information.
The Regional Recreation Centre is also home to two NHL-sized ice pads, one of which retains ice for skating and hockey year-round, and an outdoor skateboard and bike park. There are also sports fields and an oval running track in the adjacent Victoria Park.
Harry Lumley Bayshore Community Centre, 1900 3rd Avenue East
Named after an Owen Sound resident who was a National Hockey League goalie, the Bayshore offers a wide range of facilities, amenities and services including an NHL-size pad available for tournaments, concerts, and trade shows, banquet rooms, a walking track, a gazebo at the shoreline, outdoor patio, beautiful gardens, and an accessible playground. The Owen Sound Attack Junior A hockey team and many minor and recreational hockey teams play in the arena from September to March, and public skating is offered as well.
Good Cheer Rink at Harrison Park, 75 2nd Avenue East
Harrison Park is home to an outdoor artificial ice surface, open in late November or early December as weather permits, and remaining open usually until sometime in March. The HOSE rule applies to rink users: Hockey is permitted on Odd-numbered days only, and Skating on Even-numbered days.
During the rest of the year the rink surface serves as a basketball court featuring multiple hoops.
The Good Cheer Rink is provided through the generosity of the Scenic City Order of Good Cheer.
Interested in booking a facility for an event or meeting? Visit the City of Owen Sound Facility Booking page for complete information about all our parks and recreational facilities, including rates and contact information.